The Seresto Flea Control Collar is a very effective new product at Lochte Feed and General Store for controlling fleas on your dog or cat. The Seresto Flea Control Collar lasts for up to 8 months with its innovative sustained release delivery system.
Kills and repels fleas before they lay eggs
Kills and repels ticks
Provides odorless, non-greasy and easy-to-use protection
Aids in the treatment and control of sarcoptic mange on dogs
Kills chewing lice
Is water resistant*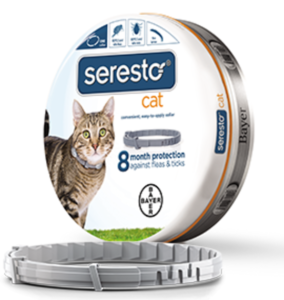 *Seresto is water-resistant and remains effective following shampoo
 treatment, swimming or after exposure to rain or sunlight. Under normal conditions, effectiveness lasts for 8 months. The flea control duration reduces to 5 months for flea control and 7 months for tick control when dogs swim and bath more than once a month.
How does the Seresto Flea Control Collar work?
Seresto is a unique polymer matrix collar that offers a continuous supply of two active ingredients – imidacloprid and flumethirin – that are released in low concentrations for effective 8-month protection against fleas and ticks. Stored within the collar, these active ingredients continuously release over 8 months period. They spread from the site of direct contact over your dog's skin surface to kill and repel fleas and ticks through contact.
Come by our location in Fredericksburg, TX today to keep your dog or cat protected this season and for all your pet feed, toys and supplies. Bring your pets by the store! We love seeing our customers!
Watch the video to see how to apply the Soresto Flea Control Collar: